Tile Flooring in Garland, TX
With beautiful new tile flooring, you can update the look and feel of any room of your home!
Here at Dobson's Flooring America, we carry a large selection of tile products to help start your flooring renovation. Our tile flooring selections come in various shapes, sizes, colors, and materials. Whether you're looking for a timeless ceramic tile or a modern wood-look tile, we have it all at our local flooring store.
Our flooring experts will be there for you every step of the way to help you choose the best tile for your performance needs and design goals. Once you select your perfect tile, we can help you protect your flooring investment with our professional installation services. Stop by our Garland, TX, showroom today to get started with your tile flooring upgrade!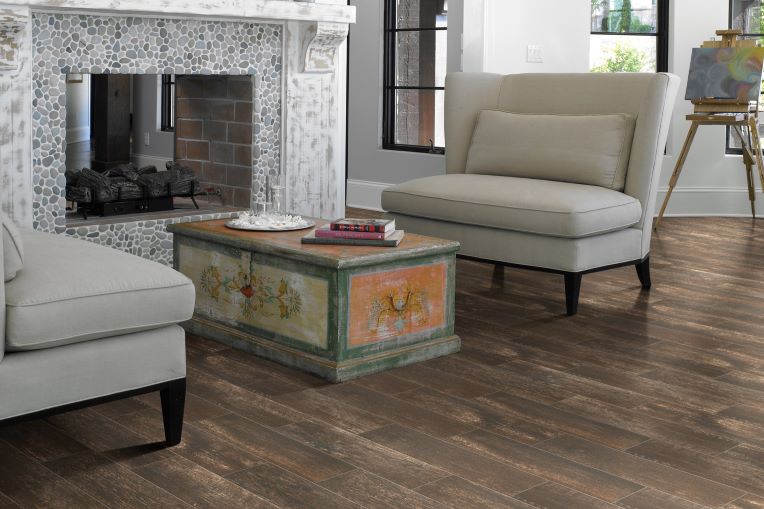 Types of Tile at Our Garland Flooring Store
At Dobson's Flooring Ameria, we make a point to offer our loyal customers a variety of classic and modern tile materials that appeal to a variety of tastes. Whether you know exactly what you need to complete your tile flooring project, or need help getting started, our friendly team will guide you throughout the entire process.
Whether you are looking for a beautiful mosaic tile, a simple neutral ceramic, a soothing natural stone, or a classy wood look, we have it all at our local Garland showroom. Learn about the types of tile flooring in our expansive selection:
Ceramic is one of the most popular types of tile for both flooring and backsplash designs. It is crafted from a heating and cooling process using kiln-fired clay.
Porcelain is made using a similar method as ceramic, but its kiln-fired clay requires a longer heating period, which results in a denser and more durable tile. This is why porcelain is often chosen for heavy-use, moisture-prone areas like kitchens and bathrooms.
Stone is one of the best tiles for outdoor flooring as it can withstand the natural elements. Natural stone tiles offer superior elegance and textured earth tones that transform any space into a spa-like sanctuary.
Wood-look tile is an increasingly popular style that is created with either ceramic or porcelain materials. It is made to mimic hardwood flooring, but it is much stronger and can withstand moisture. This way, you can get virtually any wood look you love with stress-free performance.
Tile Flooring's Many Benefits
We understand that the quality, design, and longevity of your flooring matter. That's why we only carry tile products from industry-leading brands, including Shaw, Interceramic, Happy Floors, Vitromex, Daltile, Marazzi, MSI, and more! By only carrying top-quality tile, we can provide you with a flooring solution that has so, so many benefits. Learn more about all these amazing performance and style advantages:
Tile is extremely resilient when it comes to staining and everyday wear and tear, making it perfect for placement in high-traffic areas.
Tile doesn't need much for upkeep because of its durability, making it easily maintained.
Tile is very cost-effective and can fit into nearly any budget!
Tile is waterproof, which is why it is so popular in moisture-prone rooms.
Tile flooring can help improve the air quality in your home since they do not hold onto allergens as other flooring types can.
Installing tiles can also help improve the value of your home.
Tile's versatile styles can be applied to virtually any interior design aesthetic you desire. Time to get creative!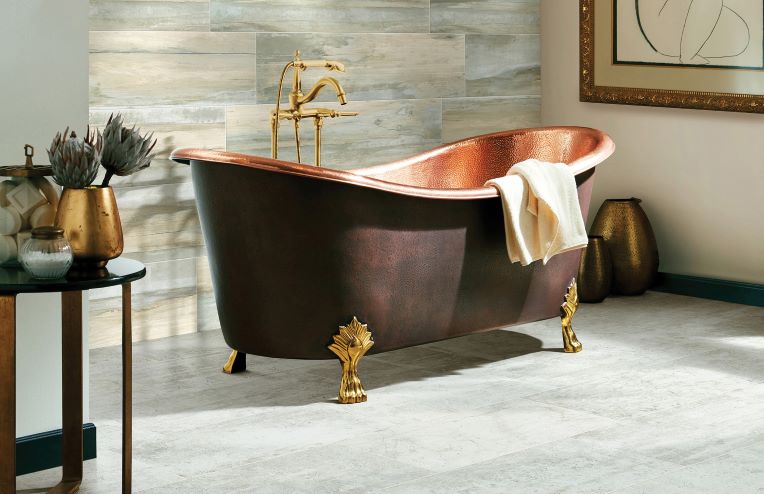 Is Tile Flooring Waterproof?
When you think about waterproof flooring, you likely start thinking of tile. After all, one of the tile's best qualities is that it's waterproof, which lets it be installed both below and above ground level. Waterproof floors are stronger and can withstand not just liquid spills but bigger accidents such as flooding.
Since tile can withstand high amounts of moisture, you can rest assured that your new tile floors will not be compromised in moisture-prone areas such as basements, entryways, mud rooms, bathrooms, laundry rooms, kitchens, and more.
Professional Tile Flooring Installation Services
When you invest in new flooring for your home, the best way to protect it for years is to let our team of installers handle the job for you. The task of correctly installing tiles can be intricate, requiring proper preparations, straight grout lines, evenly cut tiles, and exact spacing. With our team of expert installers, you are assured that your new tile floors look good and last for many, many years.
At Dobson's Flooring America, we are so confident that you will be satisfied with your new tile flooring that we offer our Adore Your Floor Guarantee. This warranty is our promise to you of a quality installation. If you are unhappy with your new floors within 30 days of your installation, we will replace them with another product of the same value at no additional cost.
Contact us to learn more about our tile flooring selection. We proudly serve customers throughout Garland, Rockwall, Dallas, Plano, Frisco, McKinney, Allen, Wylie, Mesquite, Carrolltown, Louisville, The Colony, Lost Colinas, Irving, Flower Mound, Rowse City, Sachse, and Rowlett, TX area.