Laminate Flooring in Garland, TX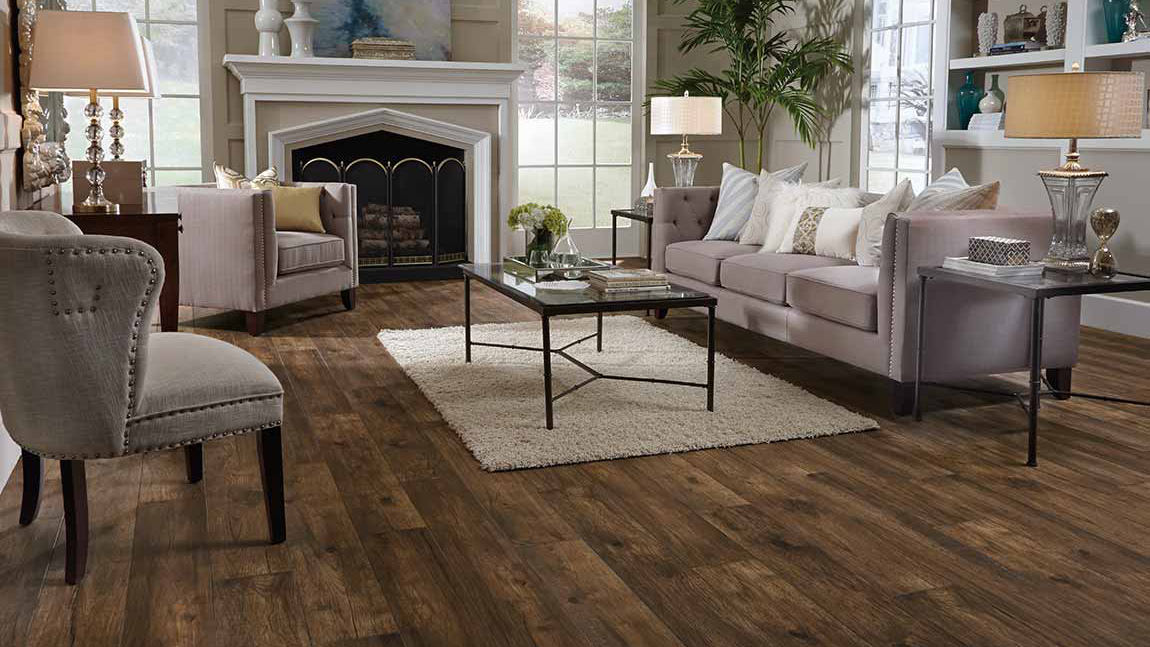 Discover the perfect laminate flooring solution at Dobson's Flooring America in Garland, TX. If you're seeking an upgrade that combines effortless upkeep with timeless elegance, laminate flooring is your answer. Our Garland showroom is your gateway to a wide selection of top-tier laminate flooring options designed to maintain their beauty and charm for years to come.
Making the right choice for your new flooring can be daunting, but you're not alone. Our team of experts is dedicated to supporting you every step of the way. From the moment you walk in, we're committed to making your journey seamless and enjoyable. Whether it's guidance in selecting the ideal laminate flooring to complement your space or ensuring impeccable installation, we've got you covered.
Are you worried about installation complexities? Leave those concerns behind! Dobson's Flooring America takes pride in delivering excellence in flooring and ensuring the installation process is smooth and stress-free. By taking the time to understand your unique needs and preferences, we can recommend the perfect laminate flooring solution that aligns with your vision.
Are you eager to transform your space with stunning laminate floors? Your first move is to visit our Garland showroom. Experience the quality, diversity, and sophistication that Dobson's Flooring America brings to laminate flooring. Your dream floors are just a visit away - let's embark on this exciting journey together!
What is Laminate Flooring?
Laminate flooring, offered at Dobson's Flooring America in Garland, TX, is a versatile and cost-effective solution that merges aesthetics with functionality. Comprising multiple layers of engineered material, laminate is designed to replicate the look of hardwood, stone, or tile while delivering enhanced durability and easy maintenance.
Each plank of laminate comprises a durable core layer, a high-resolution photographic layer that mimics real wood or stone, and a protective top layer that shields against daily wear and tear. This unique construction provides a realistic appearance and ensures resistance to scratches, stains, and fading.
What sets laminate apart is its adaptability - suitable for any room in your home or business. Whether you desire hardwood's warmth or stone's sophistication, laminate offers diverse style options without compromising performance. Experience the world of laminate flooring at our Garland showroom, where Dobson's Flooring America is dedicated to helping you discover the perfect blend of beauty and durability for your space.
Laminate Flooring Varieties
At Dobson's Flooring America in Garland, TX, we proudly present two captivating categories of laminate flooring: laminate wood flooring and laminate tile flooring. The remarkable affordability of both options ensures that your budget remains worry-free. Whether you're revamping a residential space or enhancing a commercial area, laminate flooring can seamlessly grace any room. Delve into the world of laminate to uncover its enticing possibilities:
Laminate Wood Flooring: Emulating the elegance of hardwood, our laminate wood flooring stands out for its enhanced durability and minimal upkeep demands. Crafted to mirror the charm of various wood species like mahogany and oak, this laminate type showcases a top-notch photogenic layer and a protective clear coat. The result? A stunning, lifelike wood image that radiates sophistication.
Laminate Tile Flooring: Capturing the timeless allure of natural stone flooring without the hefty price tag, our laminate tile flooring offers unbeatable value. Our collection encompasses an array of tile-like appearances reminiscent of porcelain and ceramic. The outcome is flooring that harmonizes the beauty of stone with the convenience and cost-effectiveness of laminate.
Elevate your surroundings with the magic of laminate flooring! Dobson's Flooring America invites you to explore our diverse selection at our Garland showroom. Unveil the potential of these laminate varieties, each poised to redefine the aesthetics and functionality of your space.
Why Should You Choose Laminate?
Laminate flooring brings a multitude of advantages to your Lowell home, transforming your space with style and durability. Here's why laminate is the ultimate choice:
Realistic Resemblance: Laminate is the master of disguise, replicating the allure of your cherished flooring styles like hardwood or ceramic tile. Thanks to cutting-edge manufacturing techniques, it captures every intricate detail.
Four-Layer Excellence: Comprising four robust layers, laminate ensures top-tier performance. The moisture-resistant base shields against dampness, while the sturdy core withstands heavy foot traffic, maintaining its form.
Defensive Wear Layer: Safeguarding your floor against stains and marks, the wear layer boasts a fusion of melanin resin and aluminum oxide. This dynamic duo is your floor's armor against life's little mishaps.
Decorative Flair: The top layer doubles as a canvas for creativity. Dive into a world of patterns and designs, granting your space an aesthetic boost.
Easy Maintenance: Laminate floors are incredibly easy to clean. Regular sweeping and occasional damp mopping is all that is needed to keep your laminate floors pristine.
Affordability: Compared to hardwood flooring and other alternatives, laminate offers a cost-effective solution without compromising quality or style.
Professional Laminate Installation Services
Call on our experienced crew members to place your new laminate floors perfectly. From the selection process to the placement of your new flooring, you can expect us to put our expertise to work for you at every turn. Share your flooring needs, and you can be confident that we'll leave you with the stylish look you've longed for. Our promise of a quality job is backed by some of the best guarantees in the industry, including our Ultimate Confidence Guarantee. This is our promise to you of a quality job. If you are unhappy with your new laminate flooring, call within 30 days of your installation, and we will replace it with a similar product at no additional cost.



Contact us to learn more about our extensive laminate flooring selection and professional installation services. We proudly serve customers in Garland, Rockwall, Dallas, Plano, Frisco, McKinney, Allen, Wylie, Mesquite, Carrolltown, Louisville, The Colony, Lost Collinas, Irving, Flower Mound, Rowse City, Sachse, Rowlett, TX and the surrounding communities.